Charleston's menu doesn't typically feature new high-profile restaurant openings like Sullivan's Fishing Campthe latest project from Charleston-based hotel company Basic Projects, owned by Kate and Ben Towill.
But after finishing a truly remarkable meal there, I felt the need to jot down a few thoughts.
— PM
Above all, the setting is suitable for all occasions: a lively evening with friends, a relaxed bite after the beach or a weeknight dinner with the children.
The menu is equally satisfying, which I can say with confidence after ordering most of it. Some favorites were of course imposed, such as the tempura nori tuna with furikake aioli, a must for lovers of raw or lightly cooked fish.
It wouldn't be a fish camp without fish and chips, and Sullivan's Fish Camp executive chef Davis Hood's rendition delivered, with an airy, salty crust surrounding the flaky white fish.
But I'm skipping a few major appetizers, namely the fried prawns with truffle parmesan, baked oysters, and smoked fish dip, served with homemade brined pickles.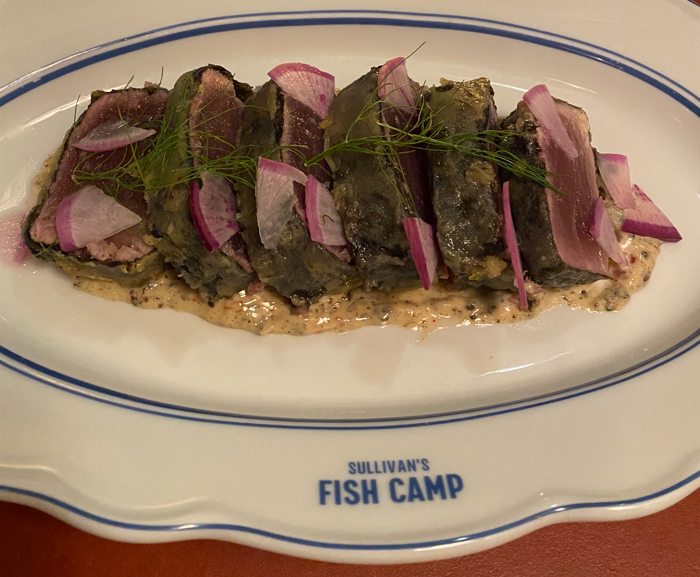 It was fun to watch my two guests cautiously dive into the slightly smoky bath; their hesitation came only from the desire to save room for the other bites that filled the table.
They had the right thought. Drizzled with green garlic butter, the delicate baked oysters soaked up the citrus fat. The breadcrumb specs added a flavorful crunch – a welcome textural contrast to the smooth bivalves.
As we gulped down the oysters one by one, the smoked fish dip slowly evaporated, especially once the smoked oyster butter Hawaiian buns landed on the table, providing another excuse to scoop more of dip.
The starters overshadowed our two main entrees – that fish and chips I mentioned earlier and the lobster roll – but we were still impressed with both.
There's plenty more to unbox here, including key lime pie dessert, frozen piña colada, and Westbrook Brewing Co. beer brewed exclusively for Sullivan's Fish Camp.
Looks like I owe Chief Hood a call.