Big Ray's Fish Camp, a popular foodie destination in South Tampa, is now open on the Tampa Riverwalk, next to the Tampa Convention Center.
The Sail, the outdoor bar undergoing renovations adjacent to Big Ray's new location, has also resumed operations on the downtown waterfront.
The original Big Ray's Fish Camp opened in 2015 as a no-frills fish shack on Interbay Boulevard in South Tampa and quickly wowed locals with its grouper sandwiches, fried shrimp, conch fritters, its onion rings and other mouthwatering menu choices.
The new location is a partnership between Big Ray owner and operator Nick Cruz and concession company Aramak. Cruz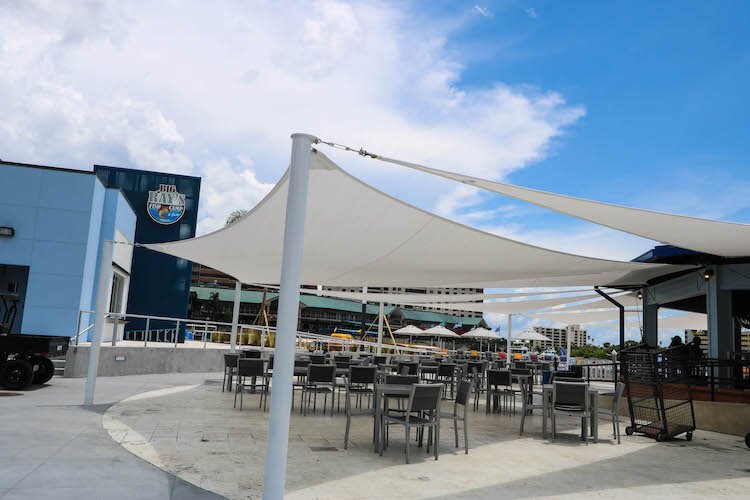 The new Big Ray's Fish Camp and The Sail will open in August.says Aramak was preparing an offer to be the food and beverage supplier for the Tampa Convention Center around the time Big Ray's was recognized in the Tampa Bay weather as one of the best restaurants in the area. The company then approached Cruz about a partnership, he says.
"It was a good time for us," said Cruz. "We were sort of the new kid on the block at the time. We were even happy to be part of the conversation. But we are even more excited to show the city and to show people who come from all over the world to the Palais des congrès what we do on a daily basis.
Unlike the old Florida fish shack atmosphere with casual dining at outdoor picnic tables at the Ballast Point location, the Riverwalk site will have more modern seating overlooking the Hillsborough River.
"The menu will be a mirror image, exactly what we have at Fish Camp," said Cruz, brother of Tampa Mayor Jane Castor's wife Ana Cruz and son of State Representative Janet Cruz, D. -Tampa. "It's going to be the same fish, the same bread. The only thing that's going to be different is that I couldn't recreate this building from the 1960s. So the building is a whole new and beautiful facility. The building is magnificent.
With The Sail, Big Ray's Fish Camp continues the downtown resurgence along the Hillsborough River that followed the completion of the Riverwalk. The upgraded Curtis Hixon Waterfront Park, a Four Green Fields Irish pub, Ulele restaurant and Armature Works are just a few of the destinations along the revitalized riverbanks.
To learn more about the companies in this story, follow these links: Big Ray fish camp, La Voile.