Everyone has their favorite Florida fish. Mine are pork snapper (and its cousins ​​snapper), pompano, mahi mahi, triple tail, grouper, and mullet when fried fresh and crispy or smoked. When it comes to shellfish, Florida crab claws are unbeatable, scallops are divine when not worried about by an overzealous chef, Key West prawns are soft and fine, and those little Florida crawfish are underestimated.
Luckily for those who live in or visit Sarasota, there are plenty of options to satisfy the fish craving. Among the many restaurants that do a great job with fish, we've selected nine standouts that consistently deliver top-quality, sustainable seafood with an emphasis on fresh catches from the Gulf.
You could easily reject Walt's Fish Market and Restaurant on the South Trail, which has been a staple of Sarasota in one place or another since the mid-20th century, as another place to grab a bite to eat while going somewhere else. It would be a mistake. The fish here is as fresh as it gets, most caught locally and served without fuss in a casual indoor or outdoor atmosphere.
You are welcome to browse the glossy retail cases to see what suits you best before ordering. On a recent visit I admired grouper cheeks, mahi mahi, (local) frog legs, amberjack and other delicacies before being won over by snapper, the most expensive fish on offer that day and really worth it. Hogfish is one of the most succulent catches in local waters. Order it grilled, squeeze a little lemon on it, and skip the tartar sauce. Why play with perfection?
Walt's Fish Market and Restaurant, 4144 S. Tamiami Trail, Sarasota, (941) 921-4605
One of the best naked grilled mahi fillets I've tasted anywhere was served in a cardboard box at a picnic table on a floating dock in starfish company in Cortez, a working commercial fishing village at the north end of Sarasota Bay. The place is not luxurious by any stretch of the imagination. You'll need to be patient in line to order at a window, and don't forget to go to the ATM along the way, as they only accept cash.
The Florida seafood served here is as fresh as it should be at a location right on the docks where many local fish are unloaded daily. A few good hush puppies, an excellent thick coleslaw and fresh hot fries or cheese grits share the box that arrives at your table in due time. Relax. Enjoy the water view. The wait will be worth it.
Star Fish Company, 12306 46th Ave. W., Cortez, (941) 794-1243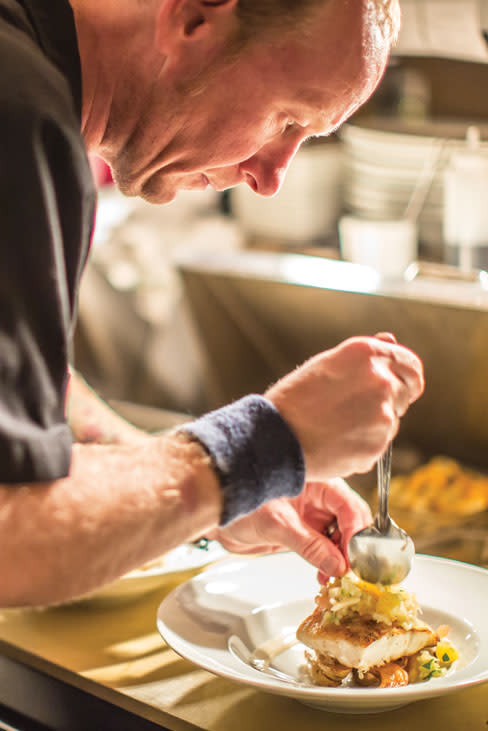 Chief Steve PhelpsOwner of Native in the downtown Towles Court Arts District, has always been more than good with fish, and now it's even better. I'm going to go out on a limb here and call him a genius when it comes to creating sauces that turn an already perfectly fine piece of fish into something approaching nirvana. And he cares about fish as fish, good fish, local wild-caught fish and fish from sustainable fisheries. Everything on the chef's menu is perfect, from wild mushroom bisque to USA-harvested shrimp on a bed of incredible collard greens, okra and polenta, but I always look forward to hearing the special preparations from the day, of which there is always minus two.
Chef-inspired cuisine is served in an utterly charming and romantic candlelit setting, whether you're seated inside, outside on the deck or patio, or in the cozy cottage that houses the wine bar.
Unsurprisingly, making reservations is a must.
Native, 239 S. Links Ave., Sarasota, (941) 706-4740
People watching from sidewalk tables at Crab and fin on St. Armands Circle is world class, but a long and varied menu that changes daily with the market and an impressive raw bar are also cause for celebration. The restaurant, which recently underwent a refurbishment to open up and brighten up its dining rooms, offers a fine selection of magnificent cold-water oysters daily, a long list of fresh catches both from local waters and by air, and chef's specialties that lead the range from crab to steak.
One of my favorite entrees, from when this space was home to Charley's Crab, is Charley's Chowder, a dark, fragrant blend of fresh Mediterranean-style fish in a thick tomato-based broth. If you're a caviar fan, choose from our own locally-farmed Mote Marine Siberian Sturgeon Roe, White Sturgeon Roe from California or Israeli Osetra from Galilee.
Crab and Fin, 420 St. Armands Circle, Sarasota, (941) 388-3964
A dining room with a beautiful view of the water is Pattigeorge's, a white-tablecloth restaurant overlooking Sarasota Bay from Longboat Key. Flavors and dishes are decidedly global with pronounced Asian influences. Fish and shellfish feature prominently. Fresh selections often change with the seasons and what happens on the day boat. There is a full bar and a good wine list.
Almost always available are a small plate of tuna tartar wonton tacos, which rock chopped ahi with wasabi "caviar" and sakimole, a variation of sake-based guacamole, and a main course of green curry grouper. Thai, which accompanies the local favorite with wok-mixed vegetables flavored with kaffir lime and lemongrass. Worth trying is the paella a la Valencia, which combines snapper, prawns, chorizo, chicken and mushrooms with saffron rice.
Pattigeorge's, 4120 Gulf of Mexico Drive, Longboat Key, (941) 383-5111
If you like your fish and shrimp served with a spectacular view of the Gulf of Mexico, then sand bar at the northern end of Anna Maria Island is for you. This favorite of locals and visitors has long been famous for its sunset cocktails on its beach-side terrace, but recent renovations have transformed both the shaded terrace and the indoor bar and dining area. , so there is no longer a bad place to be had.
The makeover was accompanied by a completely reworked menu which now comes in two parts: standing and daily specials. Both emphasize local fish and local produce.
A good appetizer that's generous enough to share is shrimp and grits, with pan-fried Gulf shrimp, guanciale (a kind of Italian bacon made from pork cheeks or jowls) and bottarga, a Mediterranean-style preparation of fresh mullet roe from the docks of Cortez, where many daily specials also come from. Also look for produce from Bradenton's Gamble Creek Organic Farm.
Sandbar Restaurant, 100 Spring Ave, Anna Maria, (941) 778-0444
Chef Dave Shiplett, who once cooked at the late Poseidon and was the founding chef of Cafe Ezra, has brought a new restaurant to downtown Bradenton. Soma Creekside is delightfully laid back and friendly and offers a varied menu, with great attention paid to the chef's love of seafood.
The menu changes often at the whim of the chef and depending on the market, but among our recent favorites are a fresh and crispy South Florida conch burger on ciabatta bun and a special mahi mahi crusted dinner. onions with olive picatta, grilled hearts of palm and black beans. Do not leave Soma without tasting the truffled tater tots! They are addictive. And if fiery foods are your thing, try the wok-cooked peanut calamari with soy, cilantro and incendiary sriracha.
Soma Creekside, 1401 Manatee Ave W., Bradenton, (941) 567-4001
Owen's Fishing Camp in Burns Court, the town center is artfully funky and a whole lot of fun. This artful take on the Old Florida vibe and southern kitchen lives in a remodeled 1923 cottage under a dramatic banyan tree and comes with a rustic back porch in case you have to wait for a table, which you probably will. . The charm of the place would be meaningless if the food wasn't so good.
One of my favorite entrees is pan-fried chunk crab cake with coleslaw and lemony mayo, which goes well with a salad of fried green tomatoes with goat cheese and country ham. There's always a special market fish served plain or with your choice of lemony caper butter or brown butter hollandaise sauce. As for the sandwiches, the BLT Fried Soft Shell Crab with Basil Mayonnaise is unusual but damn tasty. And to bring out the southerner in you, even for just an hour, try the cornmeal-crusted fresh catfish with spicy cabbage, bacon and oatmeal.
Owen's Fishing Camp, 516 Burns Court, Sarasota, (941) 951-6936
On the south bank of Phillippi Creek in Sarasota rests Table by the stream, a quietly sophisticated restaurant and bar with a pretty heavy romance factor, whether you dine indoors or on the waterside terrace. Anything you order from the globetrotting menu will be well executed and tasty, and Table hosts one of best happy hours in town.
For seafood lovers, several good options are available to you, including the lump crab cake with sumac remou-lade or, beyond the Gulf, the Chilean sea bass fritters with lime aioli, the wild salm-on ceviches (scallions, Meyer lemon extract) or the wahoo (sriracha key lime dressing), or a dinner-winning crab-crusted wild Pacific salmon with black sticky rice, baby bok choy and yellow lentil bisque. A recent special local mahi mahi, Florida lobster tail and neck clams with Key West bacon corn chowder.
Creekside Table, 5365 S. Tamiami Trail, Sarasota, (941) 921-9465
Click on here to return to our ultimate guide to Gulf seafood. >>